The Vegas Pro 11 collection combines the power of Vegas Pro with the elegance of DVD Architect to provide a dynamic and efficient environment for video and broadcast professionals. With extensive format support, unmatched effects processing, superior audio support, and a complete array of editing tools, Vegas Pro 11 gives you the creative freedom you need to produce projects with outstanding results.

Announced on Sept 9, 2011 at IBC, Vegas Pro 11 will be available in fall 2011 and offer exciting new features and more efficient workflows. Samplings of several key features are included below.
Create breathtaking stereoscopic 3D projects with the same ease and agility as the Vegas Pro 2D workflow. Vegas Pro 11 provides the ability to easily import, edit, and output stereoscopic 3D media — all using industry-standard professional delivery formats including single or dual files with side-by-side, top/bottom, or line-alternate encoding. Anaglyphic monitoring and output are also supported. Take advantage of the Floating Window controls in the stereoscopic 3D adjust plug-in, which enables you to easily correct screen-edge violations. Add stereoscopic 3D depth to cookie cutter, cross effect, and Iris transitions in seconds.
wacth the video PROMO about Vegas PRO 10
New! GPU-acceleration
Better playback — faster renders. Take advantage of the power of the GPU for smoother video playback and faster rendering. Vegas Pro leverages the GPU for video FX, transitions, compositing, pan/crop, and track motion. Vegas Pro 11 supports GPU devices from AMD and NVIDIA to accelerate your workflow.
Closed captioning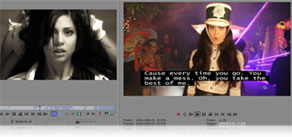 Utilize the outstanding video production environment of Vegas Pro to create content with closed captioning, or to work with content that already contains it. Vegas Pro provides a complete end-to-end Closed Caption workflow. Import, edit, move, merge, delete, create new, preview, and export CEA-608 closed-caption data in XDCAM MFX and MPEG-2 media. Display TV-like CEA608 as an overlay during playback in the Preview and Trimmer windows. This makes it easy to check placement, edits, and timing of CC information.
Audio effects
Vegas Pro software supports DirectX and VST effects from a variety of vendors. Audio effects can be applied to all events on a track, to busses, or as assignable effects. Apply over 30 customizable, real-time audio effects, as well. Automate delays, reverbs, EQs and more with envelope control for each parameter. Use automated effects such as Track EQ, Reverb, Chorus, Delay, Noise Gate, and Flange/Wah/Phase. 5.1 DirectX® effects for the master bus include EQ, Dither, and Wave Hammer Surround compression tools.
and more...
wacth the video PROMO about Vegas PRO 10
---
Newer news items:
Older news items:
---