PANASONIC ANNOUNCES COMPACT DIGITAL CAMERA CAPABLE OF SHOOTING 3D PHOTOS AND VIDEOS

New LUMIX 3D1 Digital Camera Features Twin-Lens Design for 3D Images,
or to Shoot Video and Still Photos Simultaneously

SECAUCUS, NJ (November 7, 2011) – Panasonic today announced the LUMIX DMC-3D1, a cutting-edge digital camera that employs two newly-developed lens units with folded optics design in a stunningly compact body that can capture crisp and clear 3D and 2D photos and videos.  The LUMIX 3D1, with a twin-lens design, features 25mm ultra-wide angle lenses with 4x optical zoom that offer the outstanding capability to record high resolution 8-megapixel 3D photo and 1920x1080 60i high quality 3D HD video using side-by-side method.  The LUMIX 3D1's optics give users a wider range of composition possibilities with approximately 169% larger viewing space compared to that of 35mm cameras.

Featuring a unique shooting option, the new twin-lens system allows the LUMIX 3D1 to capture 2D images and video simultaneously. The LUMIX 3D1 can shoot 12-megapixel 2D photos and record 1920x1080i full HD 2D videos.  In conventional standard digital compact cameras, users must shoot in either photo or video mode and when photo mode is selected, video recording is interrupted.  The twin-lens design of the LUMIX 3D1 breaks through these conventional barriers with two separate mechanisms for image capturing, allowing for dual shooting capabilities.  Additionally, the two-lens design allows users to record photo or video in different angles of view simultaneously.  For example, users can record an entire party scene with one lens while zooming in on and capturing the photo of a specific person with another lens. Users can easily switch between 2D and 3D mode with the dedicated 2D/3D switch conveniently located on the back of the camera.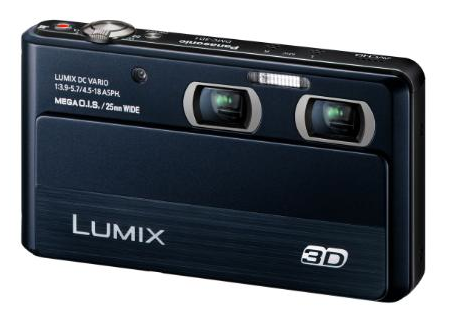 "Panasonic continues to lead the industry in 3D entertainment, giving consumers the opportunity to create their own content and then view it within their homes, and the new LUMIX 3D1 is an innovative digital camera that excels with its 3D imaging technologies, but also offers outstanding 2D photo capture options," said Darin Pepple, Senior Product Manager, Imaging, Panasonic Consumer Electronics Company. "With its twin-lens design, the LUMIX 3D1 can even shoot HD video through one lens and 2D photos from the other – thus getting still and moving content simultaneously, a unique shooting feature which Panasonic provides so users can stretch their creativity."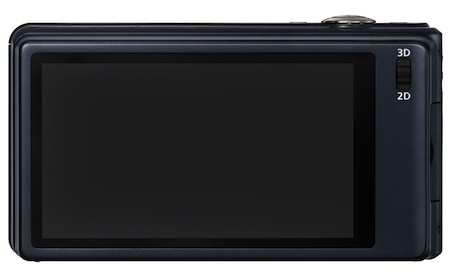 The 12-megapixel High Sensitivity MOS sensor and the Venus Engine allow the LUMIX 3D1 to achieve high-quality images and easily process image sensitivity and speed. Multi-process Noise Reduction applies optimal noise reduction according to the brightness of different areas of an image, thus creating crisp and beautiful photos and videos. Both high frequency noise that occurs in the dark area, and low frequency noise in the light are of a photo are suppressed even though occurring simultaneously in a photo. As a result, images recorded in low-light situations are dramatically clear, even when recorded at a high ISO setting.


The LUMIX 3D1 boasts extremely fast consecutive shots at 8 fps (without auto focusing) and 4 fps (with auto focusing) in full resolution.  Utilizing quad-CPUs the Venus Engine processes large amounts of 1920x1080i Full-HD data at high speeds in either AVCHD or MP4 formats.  Although using two sets of lens units and sensors, energy consumption of Venus Engine stays minimized to maintain the camera's battery life for as long as that of a single lens compact digital camera.

Though the LUMIX 3D1 utilizes advanced functions to shoot exciting 3D and 2D content, it is easy enough for anyone to shoot beautiful 2D photo and videos using iA (Intelligent Auto) mode.  iA mode combines a suite of functions to help users achieve the perfect shots, including: MEGA O.I.S, AF Tracking, Intelligent Scene Selector, Face Recognition and Intelligent ISO Control, Intelligent Exposure and Intelligent Handheld Nightshot, which generates beautiful night scenery with illumination by layering multiple images shot consecutively, allowing bright, glamorous night scenery to be recorded without using a tripod. The LUMIX 3D1 features a large 3.5-inch Smart Touch screen on the camera's back which allows users to easily move through camera functions and recorded photos and videos.  

The Panasonic LUMIX DMC-3D1 will be available in December 2011 for a suggested retail price of $499.99. For more information, please visit www.panasonic.com/lumix.

About Panasonic Consumer Electronics Company

Based in Secaucus, N.J., Panasonic Consumer Electronics Company, is a Division of Panasonic Corporation of North America, the principal North American subsidiary of Panasonic Corporation (NYSE: PC) and the hub of Panasonic's U.S. marketing, sales, service and R&D operations.  Panasonic is pledged to practice prudent, sustainable use of the earth's natural resources and protect our environment through the company's Eco Ideas programs. Panasonic was the only Consumer Electronics company to be listed in the top ten brands on the Interbrand Best Global Green Brands 2011 ranking (http://www.interbrand.com/en/best-global-brands/Best-Global-Green-Brands/2011-Report/BestGlobalGreenBrandsTable-2011.aspx). Company information for journalists is available at www.panasonic.com/pressroom.

# # #

Editorial Contacts:

MeeJin Annan-Brady (Panasonic) 201-392-6124
meejin.annan-brady@us.panasonic.com

Jamie Hodin (Cohn & Wolfe) 212-798-9796
jamie.hodin@cohnwolfe.com
---
Newer news items:
Older news items:
---