Philips introduces the new 7000 series Smart LED TV, designed to add an extra dimension to the cinematic viewing experience at home. Housed in a slim contemporary design with authentic materials, it features the latest in smart connectivity technology, Philips Smart TV, as well as Easy 3D. The new 7000 series is set to energize the home cinema experience.
Intensify your viewing experience

Ambilight Spectra 2 sided intensifies the experience
Easy 3D for a truly immersive 3D movie experience

Action captured in stunning detail

Full HD TV with Pixel Precise HD for details in action
Brilliant LED images with low power consumption
600 Hz Perfect Motion Rate (PMR) for superb motion sharpness
Perfect Natural Motion for ultra-smooth Full HD movies
Authentic and clear sound experience

Feel the power of 28 W RMS and Incredible Surround

Enjoy the online world with Smart TV

A wealth of online apps, videos to rent and catch-up TV
Enjoy photos, music and movies from any device on your TV
Control the TV with your smart phone, tablet or keyboard
Record or pause your programme easily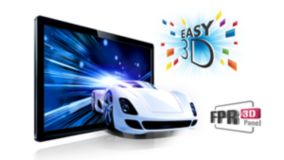 Easy 3D for a truly immersive 3D movie experience
Easy 3D ensures you get long hours of comfort while watching 3D thanks to the flicker-free, low ghosting performance. The compatible 3D glasses are lightweight and do not require batteries. Enjoy 3D easily at home today!