Now Available!
Faster and better than ever
Professional editors and
prod
ucers like you around the world have told us what you need to succeed. More efficient and easy-to-use
video
editing tools. An open platform that enables you to work with everything you want and
integrate
into any workflow. More power to eliminate bottlenecks, so you can work faster than ever. We listened. We took notes. We made it happen.
Introducing Media Composer 6—the fastest, most versatile tool for professional video editing.
New features and workflows
Full 64-bit power
Fast gets even faster with native 64-bit operation, so even when you layer together the most complex effects, things will still feel snappy. Experience smoother playback, faster rendering performance, and better handling with large bins—and say goodbye to the old memory limitations of the 32-bit operating systems. (Still need 32-bit? Learn more about Media Composer 5.5)
Better performance—and 3D—with Avid hardware
For the fastest capture/edit/monitor/output workflows, pair Media Composer with a Nitris DX or Mojo DX video interface and experience hardware-accelerated power that's second to none. You can now even customize Nitris DX with up to two Avid DNxHD or AVC-Intra chips to fully support stereoscopic 3D and HD RGB 4:4:4 workflows.
Work with 3D
Edit stereoscopic 3D material as quickly and easily as you do with standard 2D footage, with a full set of new features and workflows. Capture, edit, and manage the complete 3D end-to-end workflow. Mix and match 2D and stereoscopic 3D clips on the same track. Plus, work with full frame and frame-compatible sources, full-fledged editing tools, video effects, and more.
Work with any media
File-based media, analog and digital tape, stereoscopic 3D material, film — bring it on. Media Composer offers a wide range of features, workflows, and options that enable you to work with everything, from old-school media to the latest camera technologies. Experience the fastest tapeless workflows in the industry. Capture footage directly from digital cameras. Or add an Avid or third-party video interface to capture from other analog or digital sources. Plus, with support for 4:4:4 HD-RGB color and DNxHD 444, you can work efficiently while preserving the full-quality color detail from beginning to end.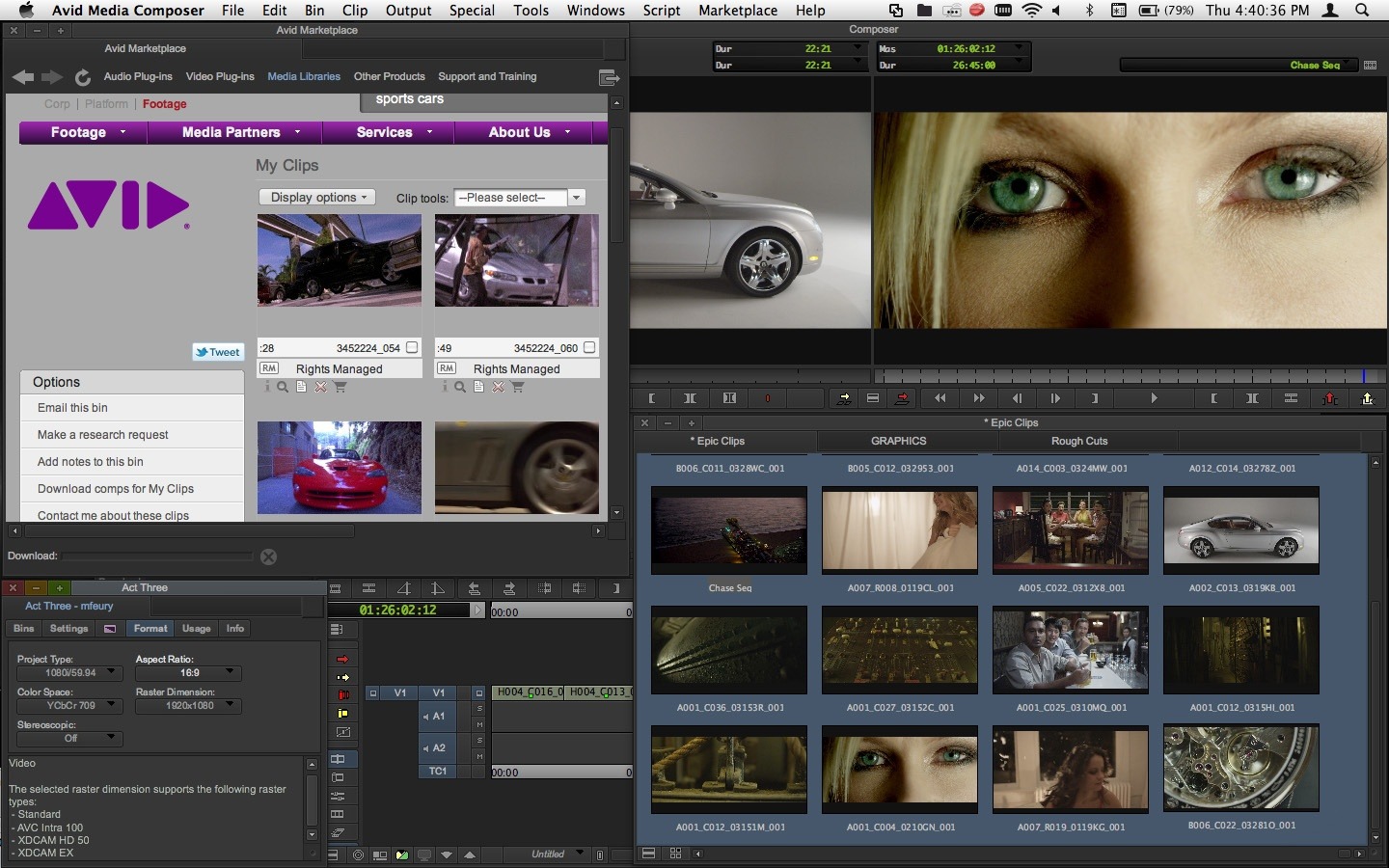 -------
System Requirements and Supported Devices
For optimal performance and reliability, be sure that your computer or laptop meets the following minimum system requirements for Media
Compose
r 6, Symphony 6, or
News
Cutter
1
10 software.
Important: Avid dedicates a significant amount of engineering resources and time to test and qualify specific platform configurations. Please note that we cannot provide support should you choose to use a non-Avid-qualified system.
Minimum requirements for Avid video editing software
Windows
Computer: Avid-qualified Windows-based computer or laptop2 (see details)
OS: Windows 7 Professional SP1 (64-bit) (Still need 32-bit?

Learn more about Media Composer 5.5

)
Processor: Intel Core 2 Duo 2.33 GHz processor or faster
Memory: 4 GB of RAM (6+ GB of RAM recommended)
Graphics Card: NVIDIA Quadro FX family3 (FX 560 or higher)
Internal Hard Drive: Minimum 80 GB 7200 rpm hard disk
Mac
Computer: Avid-qualified Mac-based computer or laptop2 (see details)
OS: Mac OS X Lion (64-bit)(Still need 32-bit?

Learn more about Media Composer 5.5

)
Processor: Intel Dual or Intel Dual Core 2.66 GHz Xeon processor or faster, or Intel Core 2 Duo 2.33 GHz processor or faster (laptops)
Memory: 4 GB of RAM (6+ GB of RAM recommended)
Graphics Card: NVIDIA GeForce family3 or ATI Radeon family (as supported by Apple)
Internal Hard Drive: Minimum 80 GB 7200 rpm hard disk
comment the article on our forum:
---
Newer news items:
Older news items:
---