Introduction
sView 2009 is a universal stereoscopic player which supports image viewing and movie playback. Program provide user-friendly interface. Current release has built-in localization for English and Russian. This page provides only common information about sView program. To learn sView user tips read this article.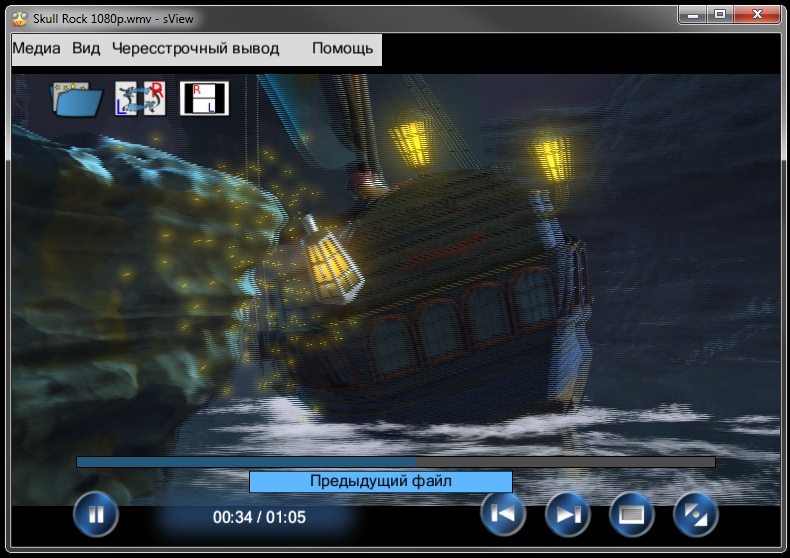 Stereo-device support list (outputs)
Anaglyph glasses;
Mirror displays;
Interlaced displays (Zalman, Hyundai, Sharp, eDimensional shutter-glasses)
iZ3D displays;
Shutter glasses (supported Hardware Quad Buffer on professional cards, NVIDIA Direct3D stereo-driver and software emulated (limited));
Vuzix HMD (uses Vuzix SDK, VR920 support);
Supported stereo formats
Horizontal pair (side by side);
Over/Under;
Interlaced
Separate views (two views in one file or from two files);
System requirements
To launch the program you need hardware accelerated OpenGL2 video-card. Most new one since GeForce FX series (GeForce 6800 and greater recommended) and up-to-date drivers (I get a lot of errors feedback with not updated drivers!).
Supported OS: Windows XP / Vista / 7; debian-based Linux distributives (Debian, Ubuntu and so on).
New since sView 2008
sView 2009 introduce a lot of changes like stereoscopic video playback, new stereo-devices support, new-style interface, GLSL shaders, Windows Vista and Windows 7 support and many others.
new systems support: Windows Vista, Window7 and Linux Ubuntu;
Internet Browser plugin for embedded stereo (supported NPAPI browsers);
Audio/Video playback via FFmpeg and OpenAL libraries;
enhanced devices support list, output mode auto-detection mechanism (for some devices);
GLSL (OpenGL shader language) and OpenGL2, speed up rendering on modern hardware;
mono output support (program now more universal!);
spheric panorama output (sphere - 'P' key);
better fit to the screen feature;
native Unicode support;
better multi-monitors configurations support;
module architecture, another developers could provide own stereo-devices support extensions;
Drag&Drop support;
no files count limit;
Windows AMD64 builds;
language translations now loaded from external text files;
new version scheme, Ubuntu-style;
better multi-threading support;
a lot of user-friendly improvements;
Author
sView 2009 was fully written by Kirill Gavrilov. You can read more in about section.
sView uses iZ3D, Inc code for iZ3D output mode. DevIL library (LGPL) used for image uploading; libraries from FFmpeg for video/audio loading; OpenAL soft for audio playback.
More info about sView
Most sView 2008 keyboard short-cuts (file navigation, zooming, and so on) leaved the same. Here you can find more details about sView features.
Download
This is strongly recommended to remove old sView versions before installing any new one.
Visit the download section to choose sView for your system.
---
sView for Windows
sView 2009 - stereoscopic MediaPlayer (images, movies)
sView for Debian-based Linux distributions
sView 2009 introduce native linux support. However work is still in progress. At this moment you only DEB-packages are available. Installation tested on Ubuntu 9.10 system. Important notice: sView need full OpenGL2.0+ with GLSL1.1+ support in most cases this means proprietary GPU drivers should be installed to launch the program!
Add one of the following lines according to your distribution to your /etc/apt/sources.list:
deb http://sview.ru/repository/deb/ stable non-free
The sView public key for apt-secure can be downloaded here. You can add this key with
sudo apt-key add apt.key
or combine downloading and registering:
wget -q http://sview.ru/repository/deb/apt.key -O- | sudo apt-key add -
Before you start installation you should apply license terms. Finally install sView itself:
sudo apt-get install sView
Note that system integration is still in progress. To launch sView from command line you should type one of the options:
sView --in=image
sView --in=video
sView media_file_name
sView for RPM-based Linux
Experimental packages. Tested on VM with Mandriva 2010 (x86).
sView 2011 - stereoscopic MediaPlayer (images, movies)
---

Version:
11.03
Release date:
2011.03.27
Author:
Kirill Gavrilov
Official site:
www.sview.ru
Download size:
~10MB



Download
sView 2008 - stereoscopic picture viewer